What Happened When We Challenged People to Dance at Work?
Aug 2, 2019
by Shelly Beall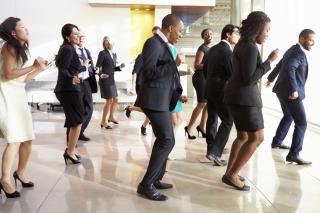 "I loved this dance challenge! It was fun, lifted my spirits and made me feel happy!"
Our clients are always asking for new and creative ways to get employees to move more, take better care of their health, and be more engaged. Our most recent program did all of this and more. We decided to mix things up by offering a Dance at Work Employee Challenge.
The big surprise?
The participants were very engaged and surprised by how fun exercise could be when they were dancing. They didn't want the program to end.
We all know health is a serious topic. However, a big part of being healthy and whole at work includes having fun, relieving stress and fostering interaction with co-workers. Business leaders are struggling with employees who are burnt out, distracted and disconnected. The search is on for new ways to enhance engagement, social well-being, and mental well-being. This new program hit all of these points and more.
Dancing and having fun together…how do we do this in the workplace?
Our team designed the program to fit the client, their space, their employees' schedules, and personalities. We created great
marketing
and communication pieces, added in some enticing prizes, and put together a schedule of classes. Then our team went in and taught fun, easy to follow dance sessions that lasted about 15-20 minutes, each at different scheduled times and locations around our client's campus. There were many other elements we added along the way, but the program at its core was simple and easy to implement.
What were the benefits?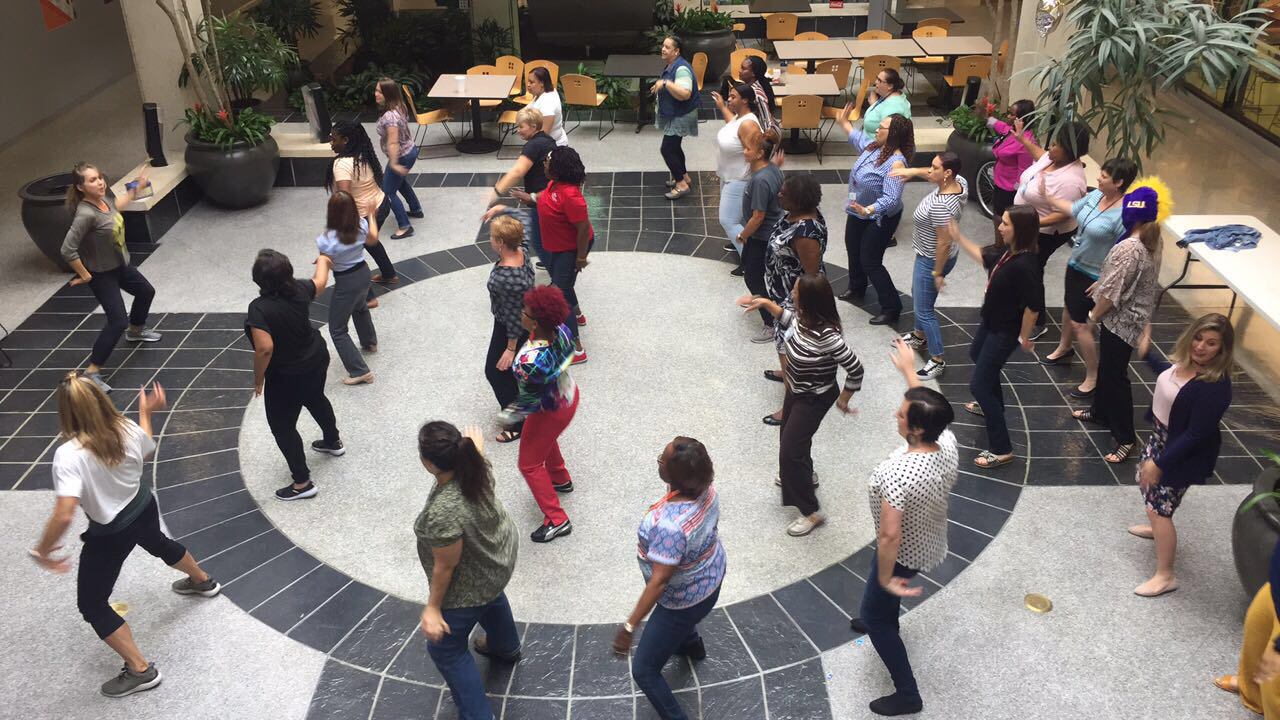 One of the top benefits was that everyone wanted in on the fun. This was one of the most popular challenges we've done for this particular group. The other big benefit was that people were moving more and having fun doing it. One of my favorite responses after our first class was "
that was 20 minutes? It felt like 5!"
This challenge brought people together in so many ways. It was a diverse group of participants, who bonded over learning steps and sometimes stumbling through dance routines together. Lots of laughter and good-hearted encouragement ensued. It was a great introduction into exercise for participants who struggled in the past because they didn't like or enjoy exercise.
It also taught employees that taking a break to mentally and physically recharge during the day, was good for their productivity, energy and focus. Dance has been proven to be good for cognitive and mental well-being.
What do the participants have to say about Dancing at Work?
"This challenge helped me move more. I found myself dancing all the time."
"This challenge did help me move more.  I am a chemo patient and am working on building up my strength and this really helped."
"What I loved most about this challenge was bonding with my manager and other co-workers and not caring if anybody was watching!  Also, my mind was clearer after dancing.  Happy for that!"
"What I liked most about the challenge was, I was able to release, relax and enjoy. It felt good getting away from my desk for a moment just to re-group. I would do it again….in a heartbeat…..Can't stop the feeling…dance…dance….dance….dance!"
"This made me turn up the volume at home and dance with the boyfriend! So I'm moving much more. I enjoyed seeing different people dancing; different cultures. It actually brought people together, that you do not usually see mingle."
"This was my favorite challenge yet! Taking a break to forget work and dance helped me to be more productive. I would definitely take part in this challenge again and again! My favorite part: the instructors. They did a great job of making the moves easy to follow and keeping the class upbeat."
"It was a lot of fun. It also help me with my joint pain. I want more!"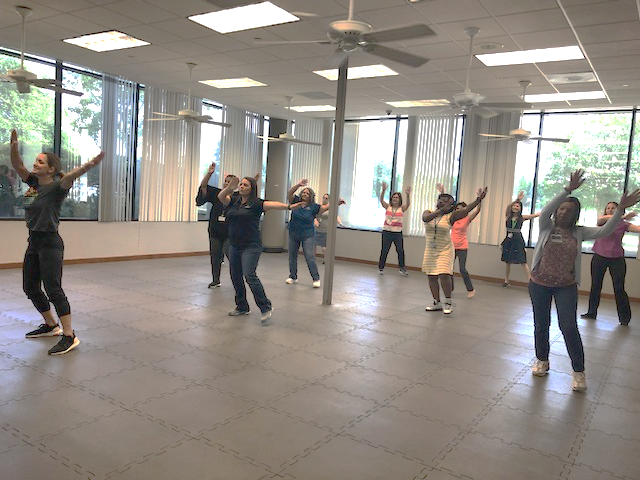 It doesn't necessarily have to be dancing for your group. The message here is that employees need to recognize that you care about their overall well-being and they need mental and physical breaks from their work periodically. As a leader, you expect and want your employees to stay motivated and productive at work. Giving them the opportunity to laugh and live a little will cultivate this in your employees and in your company culture.
Happy employees, happy company!
Improve lives, save money, get results
Customized for your Company Needs, Contact us today for a free consultation!