Keeping Your Employees Healthy and Engaged Through the Holidays
Oct 3, 2019
by Katie Normand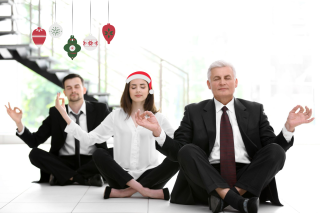 Helping Your Employees Stay Motivated and Productive Through the Holidays
In our years of experience, we find that leaders often struggle to keep the momentum of their wellness program going through the last quarter of the year. End-of-the-year deadlines and all the extras of the holidays usually result in higher rates of
stress
, more sick days and lower morale in the workplace. It can be difficult to keep the planning and implementation of wellness going through this busy time, but this is when your employees need it the most.
You want your team to perform well during this next quarter and close out the year feeling successful and positive. Obviously, you care about your employees and would also like for them to enjoy their holiday season. Make this time great for your employees and your company by keeping wellness going strong.
Create a Healthy Holiday Workplace
Here is advice that can help you keep the momentum through the holidays:
Keep it simple. This is a time where wellness messaging, challenges, campaigns and initiatives should be simple and low stress. Avoid very competitive or complex ideas. Employees don't need added pressure or feelings of guilt this time of year.
Choose an approach that focuses on mental and emotional well-being. Consider incorporating a program or challenge that everyone can get involved in and benefit from. One thing that we find works great this time of year is our 'Something's Got to Give' Stress Breaks Program. The focus is on simple practices that help to balance and manage stress. It is a great way to incorporate quick interactive sessions for employees to help them recharge and relax. With a focus on mental and emotional well-being, employees are more empowered to customize their goals and energy where most needed during this time.
Keep your workplace healthy. We have seen so many office break rooms turn into a garbage disposal for everyone's leftover holiday treats. Employees feel guilty throwing out leftover baked goods and candy and feel good about bringing it to work. While their intentions are good, it can be sabotage for those trying to balance their eating habits through the holidays. When this happens all season long it's going to get harder and harder for employees to keep their energy and willpower up to balance those healthy behaviors with the unhealthy temptations. A simple company policy will help avoid this. American Heart Association has a wonderful toolkit that outlines Healthy Workplace Food and Beverage. I highly recommend using this as guide to making changes to company policies and initiatives.
Use this time to build excitement about your 2020 wellness program. Keep the momentum going for your well-being company goals with simple initiatives and great communications. Keep the added work at a minimum for both you and the employees. Spend this time planning and building excitement for your program in the new year. Enlist your wellness committee and wellness champions to build on or promote your program for 2020. Create fun meeting opportunities that will inspire creativity and passion. Come up with creative ways to communicate these upcoming changes to the rest of your group. This will keep wellness on the forefront while allowing employees freedom to enjoy the holidays.
The holiday season from Thanksgiving to New Year's brings many challenges for your employees, even those in the best of circumstances. By planning ahead and using practical
well-being strategies
, you can support your employees in having a healthy mindset that can be applied to all areas of their lives. The holiday season is a great time to show gratitude to your employees and encourage them to keep a focus on their health and wellness goals.
Improve lives, save money, get results
Customized for your Company Needs, Contact us today for a free consultation!