Healthy Bodies: Food for Thought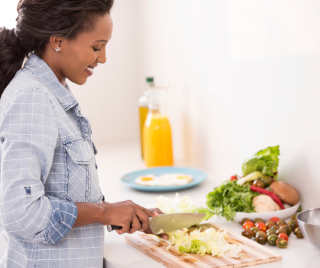 Making Healthy Eating Simple and Affordable
Nutrition is simple, yet complex at the same time. For most, identifying which route to take can become a daunting task. However, nutrition should be seen as the gateway into improving the functionality of one's mind, body, and spirit.
Taking control over what you put into your body as fuel can determine how you lead your life. When you eat good, you feel good and can achieve more of the things that are important to you. With your mind clearer, and your thoughts healthier you can make a drastic difference in how you control food spending and so much more.
After decades of experience in teaching and inspiring healthy eating, here are the top areas that tend to get clients into the danger zone of unhealthy eating habits and overspending:
Not preparing your own foods. Choosing more costly, convenient meals and grocery items that are healthy is wonderful if is in your budget. However, this still takes some careful planning and good choice making to remain healthy long-term. It is almost always more expensive to dine out, deliver or order in. If you are in this habit and suddenly find a need to cut back on spending you will be in the danger zone. The unhealthiest food choices are what you will be left with. Get into a habit of meal planning and buying only what you will need and will eat. If you do the math, this will be the cheaper route.
Going the 'overhaul' or 'all or nothing' approach. Jumping from one fad diet to the next, usually requires a complete do over of your current back stock of foods as well as added confusion. It can also lead to overspending if you are providing meals and snacks for a family. It's extremely challenging to accommodate various dietary needs. Instead make practical and gradual changes to the overall way you eat that works for everyone. On your next grocery trip, eliminate typical junk foods and drink items and replace them with fresh and frozen produce.
Starting over AGAIN. We've all been there on a Sunday afternoon with a strong conviction that come Monday morning we are going full force with nothing but healthy eating. This may motivate you to spend money on a large variety of fresh produce, lean meats, and organic items, all of which are costly. If your household isn't already in motion of eating this way and you don't take the time to prep and prepare it all, you will be throwing away food and money. There is no faster way to lose motivation to continue working on healthy eating than this pattern. Instead, start by buying only what you need for one or two new healthy recipes. Search for easy, healthy meals on a budget or 3-4 ingredient recipes.
Being rigid about your eating style. If you grew up eating hearty meat-based meals every night it does not mean that you have to always eat this way as an adult. Your healthiest meats and protein choices are very costly these days. Your cheaper options are typically more processed and higher in unhealthy fats and sodium. Working in occasional plant-based meals or meat-free days supports better health for you and for the planet. Even cutting your portions in half can reap significant benefits long-term.
Falling back on excuses. It is common to think healthy eating is too expensive or takes too much time. Let go of these beliefs and really examine what your current choices are costing you financially and physically. You can create healthy recipes and meal plans that are nutritious and delicious while remaining budget friendly. Keep an open mind and be a smart consumer. Buy in season, shop local, and keep staple items like frozen vegetables and canned beans so you are always able to throw together a healthy meal.
Our team wants to see you succeed in making healthy eating choices. We know this supports and enhances every area of your life and well-being. From our workshops and food demos to our individualized coaching we are constantly encouraging and inspiring this in you because we know how foundational it is to healthy bodies and healthy minds
. Happy National Nutrition Month®
from our team to yours!