More Joy, Less Stress: Dreaming of A Joyful And Healthy Holiday Season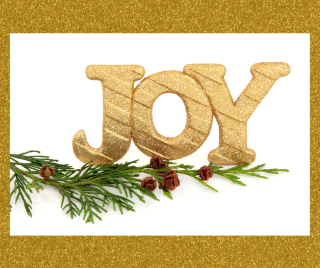 Dreaming of more calm and joy for your holidays?
The Holidays can bring much joy and nostalgia.
From family gatherings to gift giving with the ones you love; the holidays are indeed a wonderful time. With all this excitement we can also experience higher levels of stress. The weight of the holidays may cause you stress both mentally and physically. When all the extras of the season are not kept in check, it can result in weight gain, a decline in mental health, and more. We recognize how these things can affect your holiday season and New Year ahead.
Here are our top five ways to keep your holiday season filled with more joy, less stress:
Outsmart Overeating: The average caloric intake for a person during a Thanksgiving or Christmas gathering can range from 2,500 to 5,000 calories. To prevent this, have a game plan for the feast ahead of time. This is especially important if you are at risk or managing a condition such as high blood pressure, high cholesterol, or diabetes. Overindulging in high amounts of sugary, salty, or fatty foods can be dangerous. Be sure you are taking your medications properly and checking your blood pressure or blood sugar regularly. This can help you keep your health in check and on the forefront, amid all the temptation. On the days before and after holiday events, ensure that you are eating healthy, nutritious meals. Having sufficient nutrients in your diet regularly will support you in controlling cravings and overindulging in foods high in calories. Another great strategy to avoid overeating is to eat a nutritious meal or snack 1-2 hours before your holiday meal. Don't show up 'hungry' or 'starving.' Finally, adjust your mindset. Avoid the trap of throwing in the towel until the New Year. Special occasions come and go every year, but your health stays with you always.
Keep it Moving: With the weather getting colder and the food becoming more abundant, putting on extra unwanted pounds seems to come with the season. Along with sticking to that nutritious diet, ensure you are getting movement in your day. Keep it simple and don't overthink your exercise goals this time of year. A great goal is to strive to get at least 100 minutes of moderate activity or 80,000 steps each week. This can be dancing to Christmas music, playing family kickball or volleyball game or circuit workouts in your living room. This will help you prevent gaining unwanted weight. More importantly, it will help you better manage your energy and your stress. Uncontrolled stress increases cortisol levels which further supports heightened cravings and weight gain. Always exercise the morning of your holiday events. This will set the positive pace you need for the rest of your day.
Rest and Recover: A big contributor to increased stress during the holidays is not getting enough sleep and rest. Sleep is essential for recovery, which boosts your body's functions and immune system. If you are not sleeping enough, you may find that you don't have enough patience, motivation, or energy to handle the to-do list. You may also be more apt to get sick, which only leads to added stress. Stay safe this holiday season by setting a sleep schedule for yourself and sticking to it as best you can. To promote better sleep, avoid excessive amounts of sugar and alcohol. Power down, avoiding all electronics at least 45 minutes before bed to allow your brain to wind down. These habits will ensure better sleep health and renewed energy for the day ahead.
Pass on Peer Pressure: Time spent with family and friends is one of the most joyous parts of the holidays. However, we sometimes find ourselves in the predicament of peer pressure. Whether it is a family member pushing you to eat more or friend who want you to have 'one more drink' be firm on what it is you truly need to keep a better balance. If you anticipate temptation or peer pressure will become too much, set healthy boundaries. It is okay to remove yourself from the environment or say no to parties or gatherings that don't align with your personal goals or desires for the holiday season. Your health should be your priority. Keep your health goals in mind while attending these gatherings and be confident in your choices. Some might not understand how hard you've worked but YOU DO.
Happy Hydration: The fun-nature of the holidays and sometimes the colder temperatures may be distracting you from hydrating properly. Lack of hydration may cause low energy levels, inefficient flushing of toxins, weight gain, and headaches. Strive to consume at least 9-13 cups of water daily. If you drink alcohol, match each beverage with a glass of water. Eliminate becoming dehydrated and improve your health by replacing sodas and sugary drinks with water. Log your water intake through the holidays to ensure that you stay on track with your hydration.
Everything in life can be improved by finding greater balance.
We can find our equilibrium in any situation by having a strong foundation. Make good health and well-being your foundation this holiday season. Although never a perfect balance, keeping your health and well-being in check lends to less stress, more joy!