A Look into Weight Management Success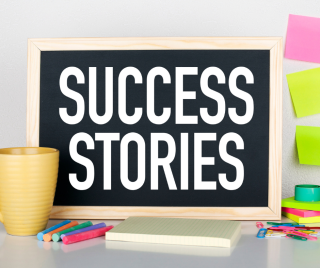 Our Unique Weight Management Program
Why do many weight loss programs and diets fail long term? Weight management is a complex and challenging dilemma. The many underlying biomarkers and psychological factors make individualized programming and high-touch engagement a must for success. High engagement and personalized programming continue to be the driving forces behind the work and success of our weight management program.
Our unique
Weight Management Program
is designed to help participants change the way they think, eat, and move to reduce their weight and most importantly improve their health. Our focus is more on gradual behavior change rather than a number on the scale. At the core of our program is a team of wellness experts, including registered dietitians, health coaches, and exercise specialists. This comprehensive program gives participants the necessary tools to achieve healthy and permanent weight loss through continuous:
Assessment
Meal Planning
Exercise Prescription
Individualized Wellness Coaching
Layered Support and Outreach
Going Beyond the Numbers in Weight Management
Our positive outcomes are largely due to our ongoing engagement in our program. It allows us to build relationships and trust with the participants.

Ashley Tribou, Weight Management Program Coordinator and Exercise Specialist, shares, "I have worked with the Weight Management Program for the past 8 years and throughout this journey I have been blessed to be a part of so many wellness journeys. I love being able to provide our participants with the tools to start an exercise routine where they feel strong and confident. My passion for health and wellness is ignited even more by these participants when they tell me that they are so happy to finally have an exercise routine that doesn't cause them pain but helps them reach their goals."

We work hard to inspire good results in our participants, but what is most rewarding is the mental and emotional change we often see. We love to hear that a participant is experiencing improved mood or feels more productive at work. This is what our team is most passionate about; truly improving someone's quality of life.
Babette Myers, SB Weight Management Program Registered Dietitian says it best, "I love watching the success of the Weight Management program participants. Their success often goes far beyond their own personal health but expands to include their circle of influence: friends, family, and other employees. I feel that when I work with one individual I am really working with a micro-community."
Inspiring Success Stories from our Program
Witnessing what others achieve with simple lifestyle changes can be a powerful motivator, even if your goals have nothing to do with weight loss. That's why we are so grateful that the three following participants of our Weight Management Program were willing to share some insight on their weight loss journeys. These three individuals have been engaged in the employee wellness program and the Weight Management Program. As a participant of the weight management program, they have the opportunity to work more closely with our team's registered dietitian, health coach and fitness trainer. This program is founded on meeting individuals where they are and inspiring gradual, but lasting changes to behaviors and lifestyle.

Weight Management Program Certified Integrative Health Coach Susan Miller shares, "helping the participants reach their weight-loss goals is just the tip of the iceberg! Wellness is a journey and for many a bumpy, confusing road. We travel this road together. Helping others discover what works for them and understanding the "why" is one of the many keys to success!"
The following three individuals have put in much hard work and dedication, and in return gained great successes.
Jason McKenzie, Weight Management Program Participant, 2½ years
In the last six months, Jason has lost 22 pounds and three inches in his waist, along with many amazing lifestyle changes.
Tell us about your recent health changes and your work to get there:
Lifestyle changes: I exercise at least 5 days a week with a mix of cardio and weight training. I practice intermittent fasting during the week. I have given up soft drinks and artificial sweeteners and eat a low carb diet as well. My energy level has increased, and I am in a more positive mood. My ability to focus while at work has increased and my anxiety level in general has decreased.
What elements of the Wellness Program do you feel has been the most helpful?
Information and guidance both Susan (WM Health Coach) and Babette (WM Registered Dietitian) have provided me with on effects both food and exercise have on the body has made it easier for me to develop a lifestyle that fits me and is sustainable. The encouragement and information from Babette and Susan are awesome. Both have helped me understand how my body works so I could develop what works for me. I have seen progress toward my overall health goals and that continues to push me. I learn something new in all of our monthly conversations.
Any advice you feel would be helpful for others to hear?
Understanding that what works for someone else may not be for you and that health is a one step at a time process. Developing a lifestyle that is sustainable for me and understanding that you don't have to starve yourself or run yourself into the ground when exercising was key for me. Picking one thing and sticking with it (for me it started with giving up diet sodas) then adding a second (light cardio then adding light weights) etc.
Weight Management Participant, 5 Years in Program
(This participant preferred to remain anonymous)
Tell us about your weight loss journey and the health changes you experienced:
Initially, I thought my health was ok. Year after year, my numbers would creep up and I was in denial to what the cause of the increase in the numbers was. I was the cause of my numbers being what they were. I did not have the confidence that I could accomplish the goal of losing weight. While in denial, I hurt my knee. The doctor told me that losing some weight would make a big difference in how I felt when walking on my knee. After receiving results from an annual check-up that confirmed, yet again, that my numbers were going in the wrong direction. I decided that I had had enough. I needed to lose weight to move my numbers in the right direction and to help my knee. One of the most important things I did was to examine myself. What was driving me? What was I thinking about food? Was I using it as a tool to be a comforting friend, to deal with stress? I worked with SB Wellness, a friend who also wanted to make changes, and read books of people's journey from a bad place to success. I realized that I was not thinking the right thoughts around food. I knew what foods were good for me from the great coaching I received from the program over the years, but I had to reach the point that enough is enough. I took another look at vegetables and tried to imagine how I can learn to love vegetables as much as I loved processed snacks. I started eating vegetables I thought I did not like. To my surprise, I made some incredible discoveries. Now, I can enjoy many vegetables just as much as the processed snacks. The weight started to come off and I was not on any strict diet plan. I just ate food. I stopped treating food as a fill-in to deal with stress. Not long after my journey, I could not eat bacon as before, it tasted extremely salty. Wow!! I ate more whole grains, lean meats at times, lots of fruits and vegetables, and other good things. My cholesterol dropped 36 points, I lost 26 pounds, my glucose dropped 19 points and I lost 4 inches in my waist. I was happy to see that my clothes fit better, and I was experiencing improved mobility.
How has your success impacted other areas of your life?
The changes positively affected my mobility, energy level, family life, mood, and many other things. My family is on board with finding and following the journey that works for them. I now enjoy being outdoors. I spend more time walking outside, working with plants, and working on projects. I sleep better and experience less pain while walking.
What elements of the Wellness Program do you feel has been the most helpful?
The Wellness program's greatest attributes are that their team is very knowledgeable. The team has a nonjudgmental posture. They genuinely care about the people they work with and try very hard to help them. They are always there to assist you with what you need to improve your health.
Any other comments or things you feel would be helpful for others to hear?
Dig deep and find out what is causing this behavior. Care about yourself. Spend time with support groups (SB wellness), friends, and family that you have in common with your health goals. I keep focus on how I want to live in the future, and I keep people having the same goals I have around me, such as SB wellness. Realize that there are no short cuts to success. Eventually, you will get there with enjoyment. It gets down to mind over matter. You must decide to go for health success one step at a time. You can learn to love foods that are good for you after trying them multiple times. Make it a fun adventure!!!
Bryan Fowler, Weight Management Program Participant, 1 Year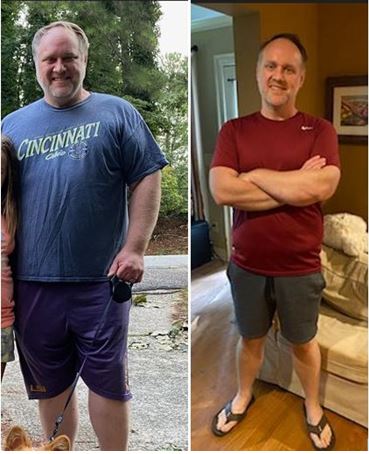 Bryan's Before and After
Tell us about your journey and the health changes you have experienced along the way:
I've lost over 80 pounds and have been able to transition off most of my medication. My blood pressure levels have been perfect. I've greatly improved my nutrition and now have a good, regular exercise routine. Dietary logging and regular review as well as the workout planning and check-ins are the elements of the Wellness Program, I feel have been the most helpful. The support group classes were great too. They gave me ideas for recipes and lifestyle modifications. These things together helped me lose a significant amount of weight, change my lifestyle, and improve my physical condition leading up to and after my weight loss surgery.
How have these changes impacted your work, energy level, family life, etc?
My energy level is much higher than it was before, and my mood is a lot more positive. I've been able to devote more time to planning and engaging in fun activities with my family than I was able to previously. I took my classic car to a car show a few weeks ago for the first time. We go out boating and swimming on the weekends more often now and I just signed my kids up for the Cub Scouts and started attending events. I've been able to spend more time working on projects around the house that I previously had little energy or desire to deal with. I have better focus and have noticed that I'm able to multitask better at work.
What are some of the key things you have learned in your journey or any advice you would like to share with others?
Keeping a regular exercise routine and make sure to plan meals for the week as much as possible instead of going out to eat. Journaling food intake and exercise helps me keep an eye on my activities and prevents mindless snacking. Reflecting on the day and going over the entries helps with staying on track, identifying issues, and making needed adjustments. If you don't like fumbling with apps, a simple memo pad and pen works very well.
Find a time to add in exercise and some resistance training if your health allows it. Even a little exercise is good. I'm one of the people that finds it boring however I just put on a favorite YouTube channel or some music that I like on my phone and before I know it, I'm done. Just find a time that works for you and fits into your schedule. I get up with my kids for school, change into my exercise clothes, get them started and while they eat breakfast and get ready, I get a workout in.
Portion control and eating slowly is very important. If you tend to eat fast and too much, a good way to slow down is to try using chopsticks instead of a fork.
Find ways to incorporate veggies or fruit where you can. For example, I'll make an omelet and add in some spinach and/or sliced peppers to add in some additional nutrition with the protein.
I see the weight-loss surgery as a tool in my toolbox. The primary tools are the nutrition and exercise as part of a healthier lifestyle which the wellness team helped me build.
We are so proud of all these individuals as well as our team of professionals who have supported them along the way. We are passionate about the work we do and love when we get to witness and share life-changing stories like these. Our mission is to inspire healthy change and our team believes in helping individuals improve their health and well-being like these three did.
We are in our ninth year of the weight management program for one of our employee groups. We have had nearly 400 participants complete at least one year in the program, of which 222 have completed two or more years in the program.
For all participants who completed one year in the program, 65% lost some weight, 77% lost inches in waist circumference with 47% losing three or more inches in waist.
For those who completed at least 3 years in the program, 58% lost and maintained five percent or more of their initial body weight.