24 Days to a Grateful Heart and Happier Mindset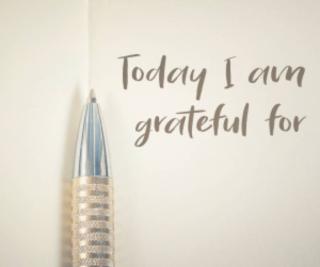 Take the 24-Day 'Gratitude to Greater Happiness' Challenge
What better time than the holidays to focus on living your life to the fullest, with a grateful heart? People who regularly practice gratitude spend more time focusing on what is good and reflecting on what makes them most happy in life. Research has shown that individuals who put gratitude into practice experience more positive feelings, sleep better, and even have stronger immune systems.
The benefits of practicing gratitude are endless.
By challenging yourself to approach life from a thankful perspective, you'll learn to look deeper into things, including adversity. It can be easy to focus on the negative in the challenges you face. The goal with practicing gratitude is to recognize just how many ways you are actually blessed.
Here are just some of the health benefits you may experience when practicing gratitude:
Increased happiness and positive mood
More satisfaction with life
Reduced stress
Less focus on material things in life
Better physical health
Better sleep
Encourages patience, humility, wisdom and many more
Every time a person expresses or receives gratitude, dopamine releases in the brain. This release of dopamine helps to make a connection between the behavior and feeling good. Practicing gratitude really does work.
Take the 24 Day 'Gratitude to Greater Happiness' Challenge with us!
From November 1st to Thanksgiving Day, the goal is to journal each day about what you are most grateful for. Challenge yourself to go beyond the obvious things like family, job, etc. and look for blessings in the small things and moments in your day. List at least three things you are grateful each day. Take it a step further and express gratitude to someone else each day. Notice any mindset shift at the end of your 24 days.
Tips to getting started with your daily gratitude practice:
Mix it up and try different methods to making it a daily habit.
This will help you find what works best for you. You can start with a small notebook and simply make it a goal to write down at least 3 things a day each morning or night. You can also try an app like
Gratitude Journal
or use a note-taking app. The key is to keep it up as consistently as you can.
Challenge yourself to find new things you are grateful for.
Reflect and be open to your surroundings, daily interactions, and habits. Exploring more deeply and finding new things in life you are thankful for will enhance your gratitude practice and open your eyes up to even greater positivity.
Practice kindness towards others.
Be thankful toward others throughout your daily routine. Thank people who serve you, loved ones who do little things for you, or the friend who call just at the right time.
Change your negative mindset.
When you have negative thoughts, reminders yourself of the things that you're thankful for will. Look for the blessing in everything, including struggles or challenges that you may have in your life.
If you having trouble finding new and diverse things to be grateful for, try one of these gratitude prompts:
Who made you smile today & why?
Name one blessing from today.
Name one food or meal you enjoyed today and why.
What is one thing one of your family members did today that made you happy?
What friendship are you thankful for and why?
Who was kind to you today & why?
Our entire team will be participating in this 2
4-Day Gratitude Challenge
and sharing their experience along the way through our social media outlets. We want you to join us and want to hear about you gratitude journey. Post on our
Facebook page
, comment or simply
email
our team to let us know what you experience throughout this journey.
We wishyou and your family a blessed holiday season and hope you continue to live with a grateful heart!